I. Introduction
Customer service has undergone a radical transformation in the wake of digital transformation and the pandemic. While high-quality customer support has always been at the heart of customer service and loyalty, the channels for providing that service have had to evolve to keep pace with customer expectations.
Your customers' touch points have moved away from the personalized in-store experience towards call centers, email marketing, and omnichannel customer communication. This radical shift in the sales cycle may come at the price of reduced customer service levels, which may in turn impact customer retention and loyalty. In a recent Deloitte study, two-thirds of customers who switch brands do so because of poor service, and analysts predict that customer experience—including support experience—is expected to overtake price and product as the key brand differentiator. To ensure your customers return, you are faced with the task of marrying the speed and convenience that digital evolution brings, with ensuring quality customer service levels are retained.
As AI chatbots continue to proliferate, the dynamics of customer service have shifted. Automated interactions lack the emotional intelligence that your customers prefer when making purchase decisions. It's becoming increasingly apparent that customers still crave human connection when browsing online and are more likely to buy if they receive the personalized experience they would receive in-store.
As the expectations of your online visitors continue to soar, live video chat for business growth offers an innovative solution that bridges the gap between your brand and its customers. In this guide, we explore the engagement advantages of live video chat and how you can leverage its capabilities to deliver a personalized, efficient, and engaging customer service experience.
II. Live Video Chat For Business Delivers Growth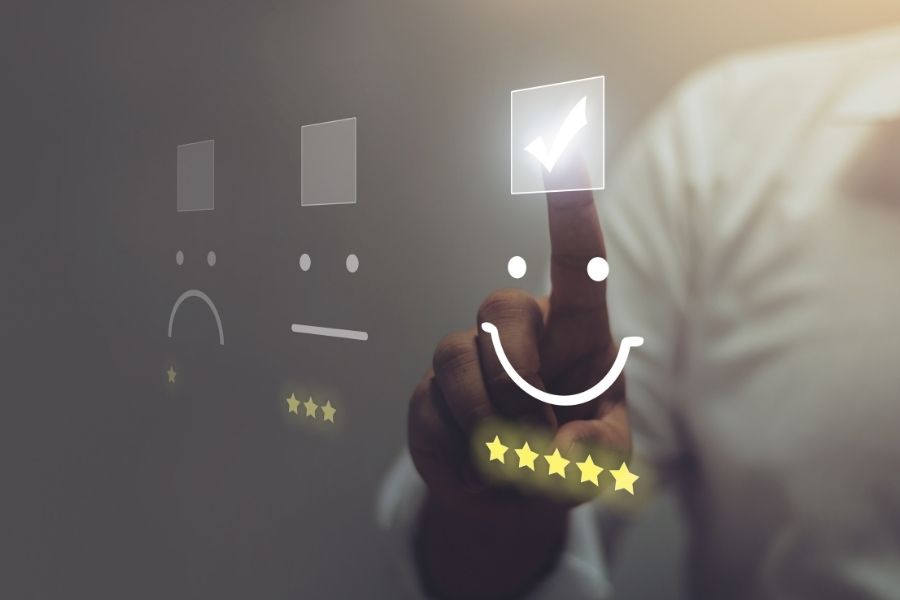 While accessible and convenient customer service is crucial for customer satisfaction, many websites that rely on chatbots usually have a hard time addressing unique customer issues. In contrast, a live video chat widget uses cutting-edge streaming technology to enable real-time interaction between your customer service agents and customers for more personalized support.
Here are the most significant advantages of live video chat and how it can revolutionize your customer service approach.
1. Increased Landing Page Conversions
A recent study shows that live chat has a customer satisfaction rating of 81%, second only to phone support. Live chat has the advantages of efficiency and accessibility, guiding your visitors to product pages, answering questions swiftly, and finding the information they need to make a buying decision.
Enabling visitors to interact with a customer service agent through video chat removes sales barriers, giving prospects and returning customers a live touch point that can build brand confidence, bolster loyalty, and ultimately lead to conversion.
2. Improved Customer Experience
Personalizing and simplifying the buying journey is crucial for connecting with your audience. A live video chat solution can move the need when it comes to leading buyers down the sales funnel.
For instance, your customer can initiate a live video chat session with a sales representative to express their interest in your project management software. The customer shares their screen and begins navigating through your website to explore the available software options. The sales representative guides them verbally, answering questions and providing insights based on the customer's screen.
A live video chat solution adds a human touch to your site, turning anonymous interactions into friendly conversations for customers to feel more valued and understood. It provides a seamless communication channel to help businesses build lasting relationships.
3. Eliminate the Chatbot Loop
While chatbots are helpful for basic questions, they struggle with answering complex issues – often leading to frustrated customers. For example, customers may struggle to refund or rebook flight tickets via chatbot due to policies or availability issues – resulting in repeated chatbot attempts to contact someone who could help them with their dilemma.
In contrast, a live video chat widget breaks the "chatbot loop" by allowing visitors to quickly connect with a real person. Using the example given above, customers can instantly seek assistance from a human agent to provide the level of support required for this particular task.
Connecting customers with your live customer service team ensures that problems are not just heard, but are also effectively and efficiently resolved. This personalized support minimizes the possibility of prospects leaving your site and enhancing their customer experience.
III. Optimizing Live Video Chat for Business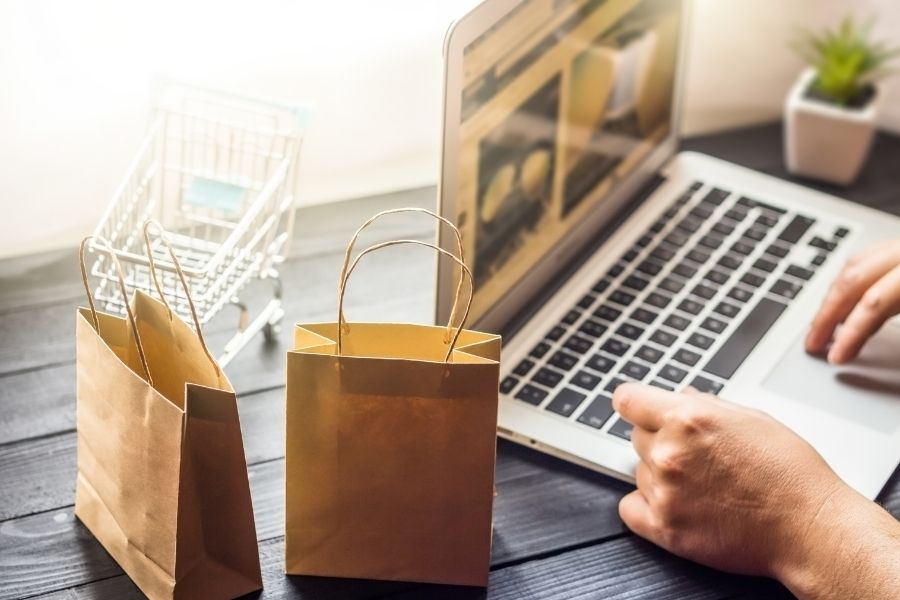 E-commerce has gone through explosive growth, prompting traditional brick-and-mortar businesses to pivot toward online retail. However, this surge presents a daunting challenge: delivering top-tier customer support at a time when customers expect rapid and efficient service.
This is where live video chat widgets emerge as an invaluable tool. By blending the ease of online shopping with real-time interactions, video chat e-commerce is molding the future of customer support for these modern businesses.
Enhancing Customer Support through Real-Time Human Interaction
Live video chat software helps solve the limitations of automated, text-based communication by providing genuine human interaction in a digital shopping environment. Like seeking assistance from a salesperson at a physical store, live video chat replicates this experience online. It allows businesses to reach a diverse global audience in addressing their issues and needs.
Empowering the Future of Retail
As consumers shift their shopping habits online, personalized customer support continues to be in high demand. With live video chat, businesses can showcase products, offer tailored recommendations, and create memorable shopping experiences.
This approach effectively reduces cart abandonment and, in turn, boosts conversions. By leveraging technology and human interaction, businesses can provide superior online customer service.
The Conversion-Boosting Potential of Live Chat
A live chat widget can significantly improve your bottom line. Here are five key aspects that make live chat an effective tool for boosting conversion rates on your e-commerce websites:
Convenience
Positioned conveniently at the corner of your webpage, live chat provides customers with a direct line of assistance to eliminate the hassle of filling out forms or drafting emails. It turns what could be stumbling blocks into valuable conversion opportunities.
Speed
Live chat delivers fast service with a 40-second average response time in 2022. Instant responses help businesses engage, address concerns, and close deals faster than competitors.
Satisfaction
With a 73% satisfaction rate, live chat provides high-quality customer service – surpassing email and phone support. Higher customer satisfaction leads to better conversions and sets the stage for long-term brand advocacy.
Personalization
Live chat brings a personal touch to your online interactions. Agents can chat with customers in real-time, understanding their needs and offering tailored recommendations. This can lead to a 10% increase in the average order value.
Engagement
Live chat support ensures visitors' concerns are addressed, preventing losses from cart abandonment. Providing support during these critical moments can turn uncertain visitors into confident buyers, contributing to a stronger bottom line for your business.
IV. Selecting the Right Live Chat Solution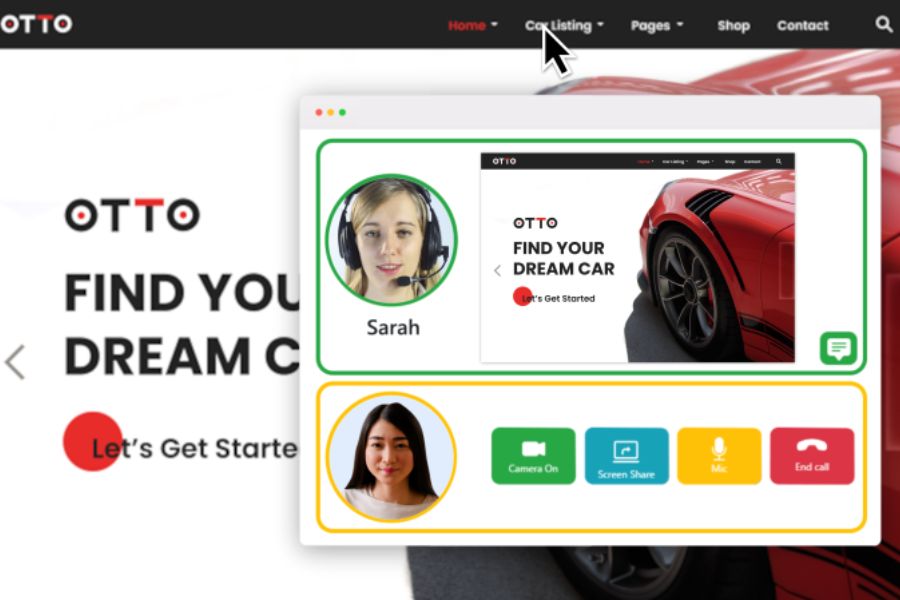 Choosing the ideal live chat solution is more than just adding a tool to your website. It's about establishing a customer support system that helps guide visitors into buying your product or service.
By investing in a top-notch live video chat solution that aligns with your needs, you can establish your brand as a leader in the digital space. Here are some essential factors to consider when selecting the best website video chat solution for your business:
High-Quality Video Chat: Real-time, face-to-face interactions build trust and genuine connection with your website visitors.
Screen Sharing: Screen sharing lets your support team observe and resolve issues in real-time to provide personalized troubleshooting.
Customizable Branding: Customizable branding matches the look of your chat widget with your brand, creating a cohesive customer experience.
Analytics and Reporting: Analytics and reporting tools let you monitor live chat metrics to help you improve your customer service.
Transfer Link: A shareable transfer link reduces friction by making it easy to connect customers with the right agent or department.
Mobile-Friendly: Optimizing for mobile devices ensures agents can support customers on the go and visitors can access your live chat on their phones or tablets.
Cost & Scalability: Look for solutions with budget-friendly pricing plans and flexible payment options that offer scalability to accommodate future growth.
V. Live Video Chat for Websites: Best Practices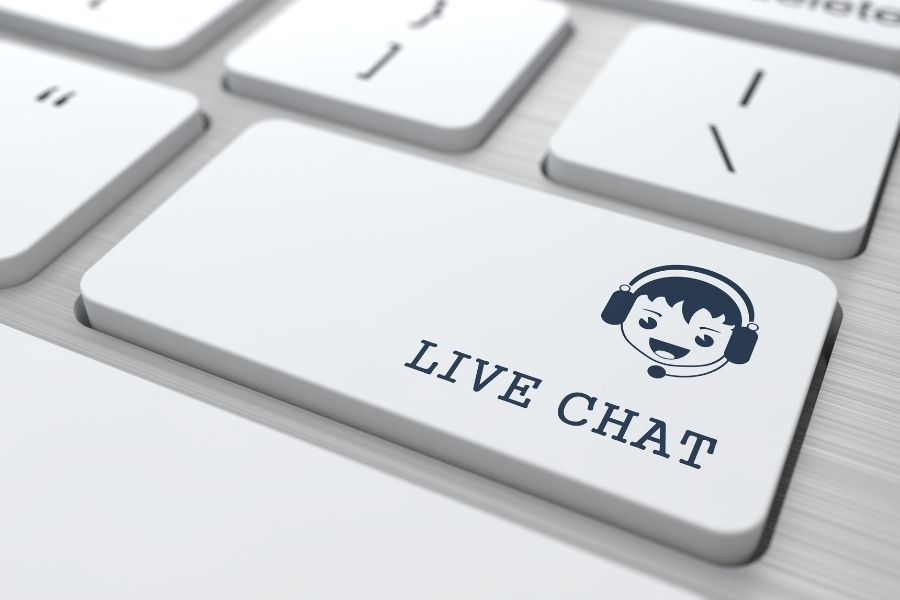 Live chat support is a vital tool for turning website clicks into paying customers, but to fully unlock its potential, knowing how to integrate this solution into your business processes effectively is key. By implementing these 14 live video chat strategies, you can create a customer-centric online experience that drives conversions.
Consider Key Features
Choose a live chat tool that suits your customer support goals. Thoughtfully identifying the features you need lays the foundation for exceptional live chat support.
Streamline Your Responses
Utilize chat templates and missed chat alerts in your customer support system. This enables your agents to maintain a high level of responsiveness.
Chat Templates: pre-written responses to answer common questions
Missed Chat Alerts: reminds agents to attend to pending customer messages or video calls
Train Your Agents
Conduct immersive role-playing exercises with your agents to simulate real live chat scenarios. This helps them to learn how to interact with different customers and use the HEARD technique (Hear, Empathize, Apologize, Resolve, and Diagnose) to improve engagement.
Tailor Customer Interactions
Personalizing responses to suit each customer's needs is important when delivering high-quality live chat support. Here are a few tips for tailoring agent-customer interactions:
Using live chat surveys to segment customers
Customizing responses based on intent
Addressing customers by name and referencing past interactions
Offering various engagement paths depending on customer type
Leveraging CRM data to understand preferences and pain points
Choose the Right Time and Place
It's important to strategically position your widget for optimal engagement. Consider these tips when setting up your live chat:
Position the widget at the bottom-right corner of your website
Extend live chat to critical pages (e.g., contact page, pricing page, and help/FAQ section)
Ensure the chat icon is visible with a contrasting button
Use data analytics to initiate chats based on visitor behavior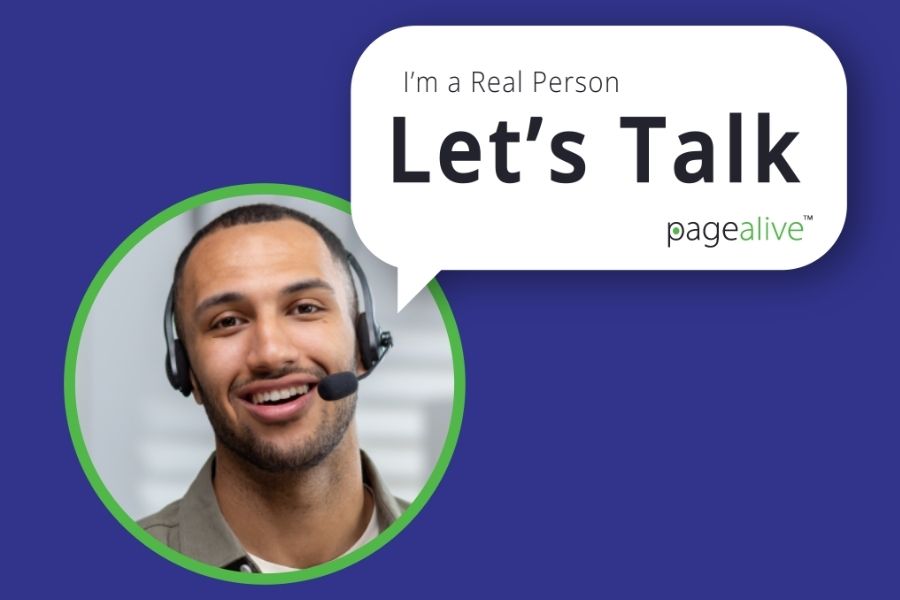 Implement Routing
An intelligent routing system connects customers with the right agents or teams to improve resolution times. Incorporating queue management strategies into this approach can also help balance your agent's workload.
Integrate Co-Browsing
Co-browsing allows a support agent to view and interact with a customer's web browser in real-time. This prevents miscommunication by enabling your team to provide step-by-step guidance when addressing complex problems.
Adopt the Right Etiquette
Practicing proper live chat etiquette helps your team members build effective communication skills. This includes listening attentively to customer concerns, acknowledging feelings, apologizing sincerely, and maintaining professionalism.
Streamline with Business Tools
Integrating business tools into your live chat solution helps streamline your operations. Leveraging data from CRM systems, CMS software, and eCommerce platforms allows you to access important customer information and deliver informed service.
Interact via Video
Video-based customer service enables face-to-face interactions with customers, building rapport and trust. This personalized approach is particularly effective for complex problem-solving, product demos, or conveying empathy during sensitive conversations.
Add Live Chat Triggers
Strategic live chat triggers engage visitors at critical moments in their buyer journey. By effectively understanding their online behavior and timing triggers, you can actively engage your audience and increase customer retention.
Track Live Chat Metrics
Monitoring key performance indicators (KPIs) is essential to measure the effectiveness of your live chat support. Take note of these important metrics:
First Response Time: Average response speed
First Contact Resolution: The rate at which an agent resolves issues in a single chat session.
Customer Satisfaction: Post-chat satisfaction based on survey feedback
Chat Volume: The total number of live chat sessions in a specific period
Chat to Conversion Rate: The percentage of visitors converted into customers via live chat
Get Feedback Afterwards
After each live chat conversation, collect customer feedback through surveys or forms. This practice helps gauge service quality and reveals areas of improvement. By acting on feedback, your agents can consistently satisfy customers and provide top-notch support.
Collect Data with Pre-Chat Forms
Pre-chat forms provide your agents with customer data for added context before starting a chat. This practice boosts efficiency by ensuring inquiries are directed to the right agents or departments – ultimately elevating the quality of customer support.
VI. The Future of Customer Engagement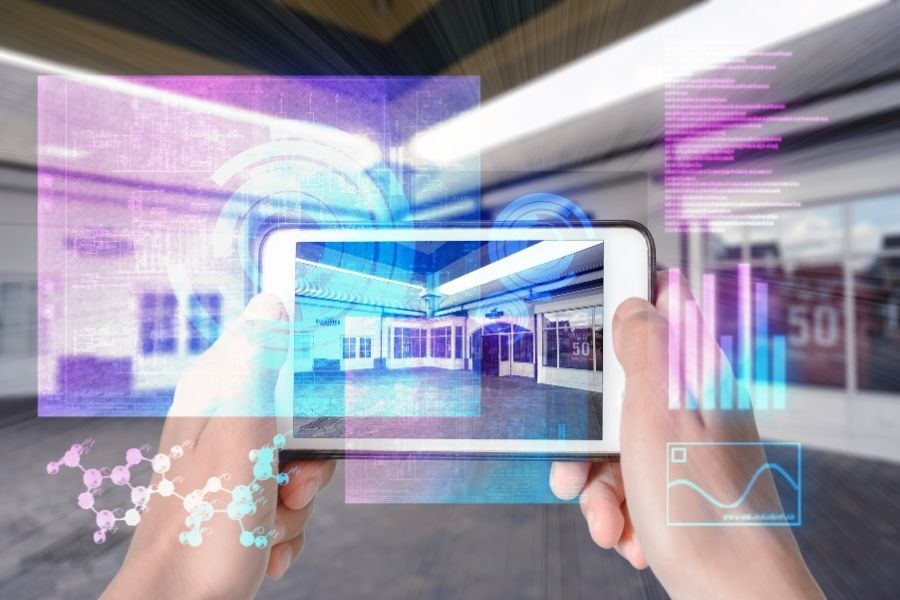 Even while online, customers prefer human connection over faceless transactions. For this reason, live video chat is quickly becoming a popular customer engagement tool by combining the convenience of live video communication with personalized human interaction. As this technology evolves, businesses have the opportunity to differentiate themselves and create lasting connections with customers in an ever-changing consumer landscape.
Human Engagement in the Digital Age
Live video chat humanizes brands by enabling real-time face-to-face interactions that help build trust and foster loyalty. Compared to automated responses and emails, it offers personalized support to resolve customer issues efficiently.
What's the Next Step for Live Chat?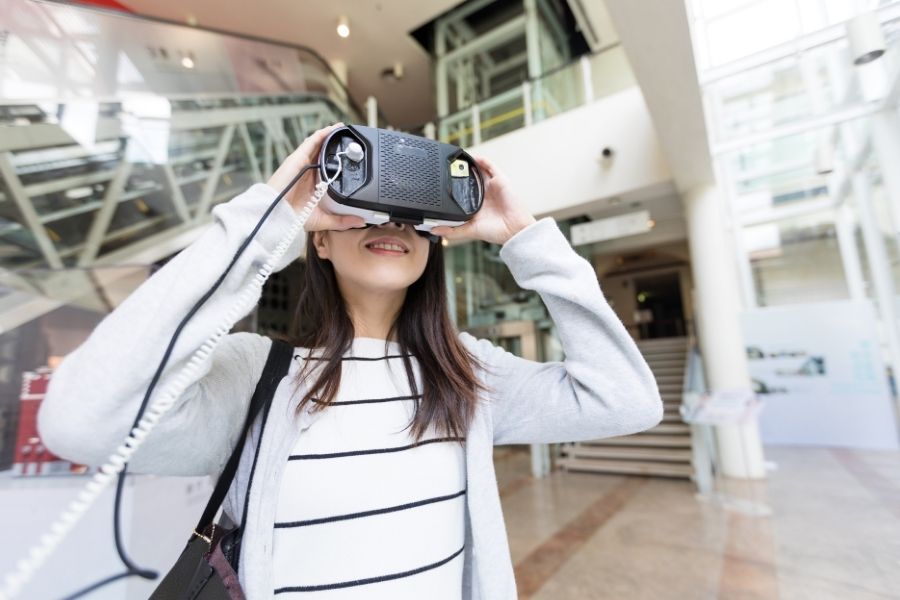 AI Chatbots
Integrating chatbots powered by artificial intelligence (AI) could provide around-the-clock support in case agents are unavailable. While less effective than a real customer service agent, chatbots can serve as a backup measure to ensure visitors can be assisted, regardless of the time of day.
AR and VR
Augmented reality (AR) and virtual reality (VR) technologies offer a variety of immersive experiences to improve customer engagement, such as:
Virtual Product Demonstrations: AR and VR allow customers to interact and try out products virtually to aid decision-making.
Virtual Tours: Travel and hospitality businesses can offer virtual tours for customers to preview destinations.
Product Customization: Customers can use AR and VR to personalize products in real-time.
Interactive Training and Education: AR and VR can create immersive learning experiences to benefit educational and training sectors.
Virtual Showrooms and Experiences: Brands can build virtual showrooms for customers to explore products, receive information, and engage with virtual sales representatives.
Live Video Chat Across Industries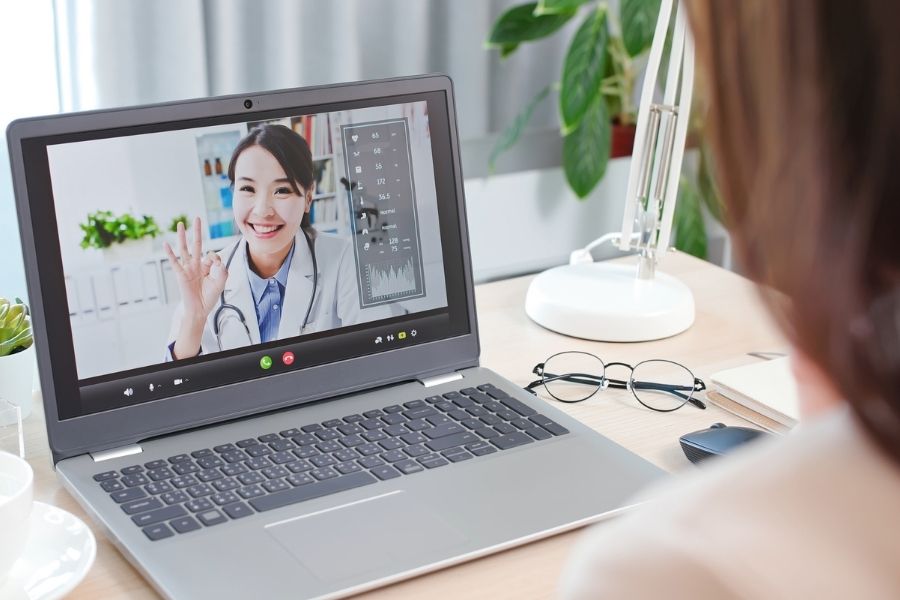 Live video chat technology can be implemented across various sectors to improve operations. Some applications include:
Healthcare: Helps facilitate remote consultations with medical professionals, extending care to remote areas and increasing accessibility.
Education: Delivers e-learning opportunities through virtual tutoring and online sessions with professors.
E-commerce: Brands can boost online sales and reduce cart abandonment rates by giving personalized assistance.
Finance: Consultants can provide secure and detailed financial advice through video meetings.
VII. Conclusion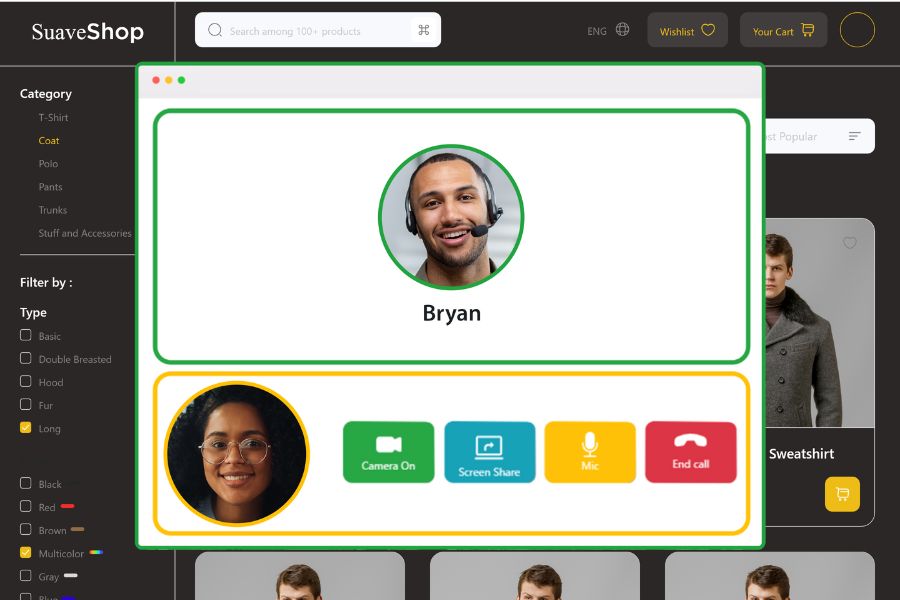 As the digital space continuously changes, the demand for human connection remains. Live video chat has emerged as a powerful solution that combines the convenience of real-time video communication with the personal touch of human interaction.
From increased landing page conversions to eliminating the chatbot loop, video chat apps offer many benefits. Moreover, it is poised to adapt to future technological advancements, making it a versatile tool for the ever-changing world of customer engagement.
By implementing live video chat strategies and adhering to best practices, businesses can establish themselves as leaders online, creating lasting connections with customers and driving conversions in an increasingly competitive landscape.
Increase Your Conversion Rate With
Get Started